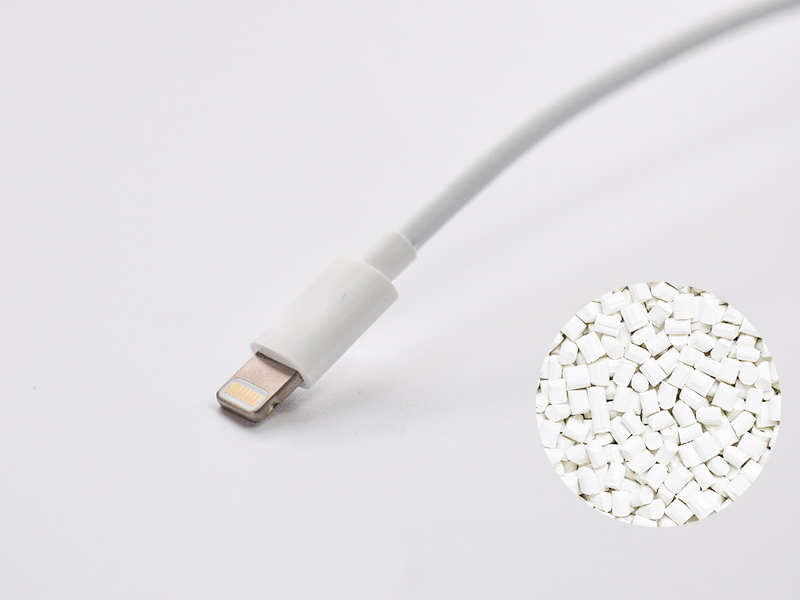 Applicable field: The outer quilt and core wire of various USB and SATA cables that need to pass the UL VW-1 test.
TPU Material features:
1. UL 94V0 grade tpu material, fully support USB and SATA cables to pass the UL VW-1 flame retardant test;
2. Support wire products to pass UL1581/758/62 corresponding mechanical performance tests and thermal deformation and non-migration tests;
3. The support wire passes the UL 80°C/105°C temperature resistance level test;
4. The apparent luster is natural, dry, and smooth, and there is no deterioration such as sticky hands and sticky ash that are common in TPE materials;
5. Electrical performance: excellent electrical performance, supporting wires to pass UL UL1581/758/62 withstand voltage test and insulation resistance test;
6. Processing characteristics: excellent processing efficiency and processing performance, the production efficiency of 60-100 meters per minute can be achieved by using the same PVC screw machine, and there is very little deterioration such as drooling, particles, bulging, and pitting during processing.
TPU Material commonality:
1. Environmental performance: fully meet the requirements of internationally accepted environmental protection directives such as RoHS (REV.2.0), REACH regulations, SVHC substances, and GP;
2. Environmental resistance characteristics: According to the application requirements of customers, without changing the above basic performance, anti-UV and other characteristics can be added.